Veeam Plugin for VCD
Tenant Portal Usage
These instructions are for Tenants to explain the recommended method for using the Veeam Plugin for VCD.
Tenant logs in to vCloud Director
Open Managed Backups from the VCD drop-down list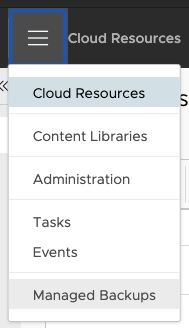 Assuming the Service Provider has enabled the Tenant Organization in the VSSP, the tenant will now be automatically logged in using the veeam.sa service account the plugin created underneath each VCD Tenant Organization.

Once logged in, Veeam Documentation should be referenced for further instructions if required.